The students of International Performance Research (MA) write about their experiences during Baltic Circle International Theatre Festival for Liikekieli.com. Feel free to comment, question and give some feedback on Melanie Jame Walsh's experience of Field Works – Hotel.
The Pleasure of Non-Places
The ceiling of the lobby at Hotel Arthur in downtown Helsinki is striated with chromey-gold panels. As I wait to be summoned into my encounter with Heine Adval & Yukiko Shinozaki's Field Works, I look at myself reflected from above in this particular hotelness; this strange suggestion of opulence at once hopelessly never there and nostalgically faded; just beyond reach. I take my picture in this mirrored ceiling. I am being Sophie Calle. I am looking for proof of my existence here in this late-Northern European Autumn. Everything is cinema and I am already in love with the work that I am about to enter. I surrender to not knowing in this non-place; this in-between space. My one rule for myself in this experience: no guessing, no expecting. But I can't help but wonder…
I am told that a message has been received. My room is ready. I am handed the key to room 315 and offered several routes to the space. I take the stairs. I glide down the passage way, put the key in door and walk on in. No-one is there to greet me. Not in the bathroom, not under the bed, not in the closet. I check. Thoroughly. I am alone. In my travels around this non-descript, €150 per night, perfectly not extraordinary room, I discover what feels like a thousand tiny perversions, all intervening in the space for my sole benefit, should I care to notice. I do. Little, teensy miniature figures live in tableaux on an island of moss in the cupboard. On the coffee table, two more, a man and a woman, lie in white cloth coasters, each encased alone, and displayed together under upturned wineglasses.
Little white tags with printed text, 'Hello', 'Perfect', 'Thank You', hang from occasional doorknobs and light fittings, from the telephone. A discarded note lies in the wastepaper basket, it has my name written on it. I am expected. I am welcome. The note begins the subtle distortions and gambits with sense of time and place which characterize this piece. But where are they? I repeat my rule: no expecting, no guessing. But, well, where are they!? Do I want 'them' in here? It feels like my room now. Do I need to brace myself? No guessing, no expecting: rest and be received. An occasional soundscape of domestic rattlings and flushings begins to emanate from the bathroom.
The TV screen is large and fixed to the wall in the corner across from the bed. Hello…my name is typed character by character on the screen. I have company. On the screen a room just like my own. My own in realtime? Next door? Next floor? Last Year? Moments before? Trace. Memory. Trace. Transience. A suited male figure enters this mediated room, trundling an overnight bag. I view him placing objects around the room. I check for them in their places; puzzle pieces under the duvet, a ticking mechanism in a brown cardboard box. So he has been here before me? But I want him here now. Like so much longing in hotel rooms before today. He is piling small cards of text on the table. They speak of perfection, of comfort, of being attended to, being held, of care warm and cool; the promises that hotels make, the promises that are made in hotel rooms; different intimacies and estrangements.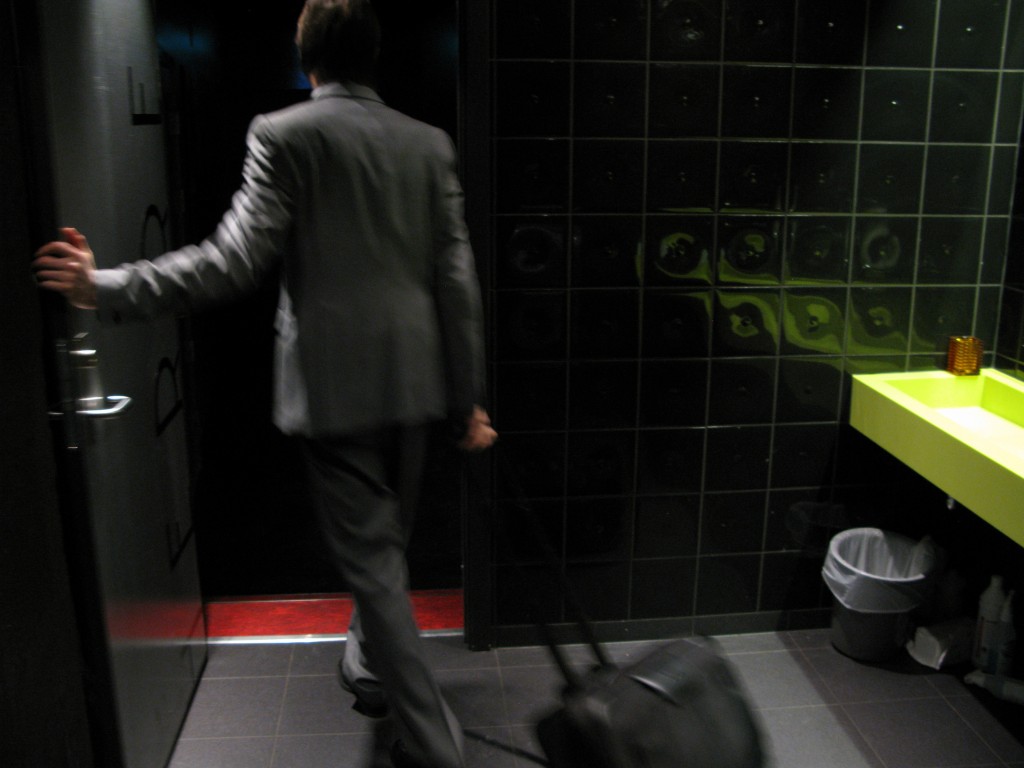 I sit on the floor at the end of the bed. Is that me now on the screen? Slowly, I raise my hand to the crown of my head. The movement is mirrored on screen. They are watching me. They have been watching me. We are all here. Together alone. On the screen, the suited man reappears. He is here with me, but only in ghosted superimposition on screen. Somewhere else in an identical room. We play together. We dance. We embrace. We fight with pillows and twirl around like dervishes. I hide in the cupboard and make abstracted shapes with my body in counterpoint to his. A score of music, played from tiny speakers in my room, underscore a clever, satisfying dramaturgical weave of tenderness, play and alienation between us. He goes to leave. I hold up my hand to my playmate. It is poignant, melancholic, like goodbyes that I have had before in these hotel spaces.
I take my time to leave. In the hallway there he is. Trundling his overnight bag, up ahead, out of reach, embodied. He moves swiftly round the corner and out of sight. For a moment, I want to stop him. We were so close. But the bittersweet reverie of our non-attached, attachment is beautiful to leave. I don't want to see his face. I don't need to, the particular intersection of our time is over and I have no doubt of it's uniqueness, it was mine and his alone. Hotels are places where we come to be with strangers. Wordlessly. Unattached. Fleeting pleasures and senses and feelings light and dark that we can't quite be sure were there at all. Wonderful and strange. Like all good hotels, Field Works assures it's excellence through a philosophy of attention to detail. As I walk out of Hotel Arthur I am beaming and crying all at the same time for the hopeless joy of it all; in love with the encounter.
Melanie Jame Walsh
Writer is an Australian artist and performer currently based in Berlin. She is a member of triage live art collective and creative director of savage amusement. www.triageliveartcollective.com & www.savage-amusement.com
***
Heine Avdal & Yukiko Shinozaki: Field Works Hotel
Concept and Direction: Heine Avdal, Yukiko Shinozaki
Performed and Created by: Heine Avdal,  Fabrice Moinet
Sound design and electronics: Fabrice Moinet