The students of International Performance Research (MA) write about their experiences during Baltic Circle International Theatre Festival for Liikekieli.com. Feel free to comment, question and give some feedback on Viola Karungi's review of Field Works – Hotel by Heine Avdal and Yukiko Shinozaki.
"Field Works – Hotel"
Whatever this phrase means! All I know is that this performance/film 'worked' me in ways that I may never be able to explain. On 10th November 2012, I walked into Hotel Arthur in Kaisaniemi at 3:00pm. I was greeted by a jovial lady. She gave me a key to room 315 and told me 'Take the stairs up right opposite the lifts. When you are through, please return the key here.' I know that I was excited but I did not know what to expect. I will not necessarily talk about the events that took place but rather, advance my experience and understanding of the concept.
Think of a hotel room that you have been to; 315 is only exceptional because it was a 'film hall or theatre' for the 25 minutes when I was there. A screen welcomes me, with my name being typed by an unseen person. Then a few notes about the nature of the performance such as the dos and don'ts. On the screen is a room, exactly as the one I am in. A man walks into this room with a small suitcase. He does many things, some of which I will randomly mention; takes off his clothes and goes for a shower in the bathroom, watches tv, acts as if he is afraid of something outside the window of his room, plays with beddings, etc. At one point, he assumes ecstatic stances as he runs away from unseen scares, hides under the bed, in the curtains, in the wardrobe, etc.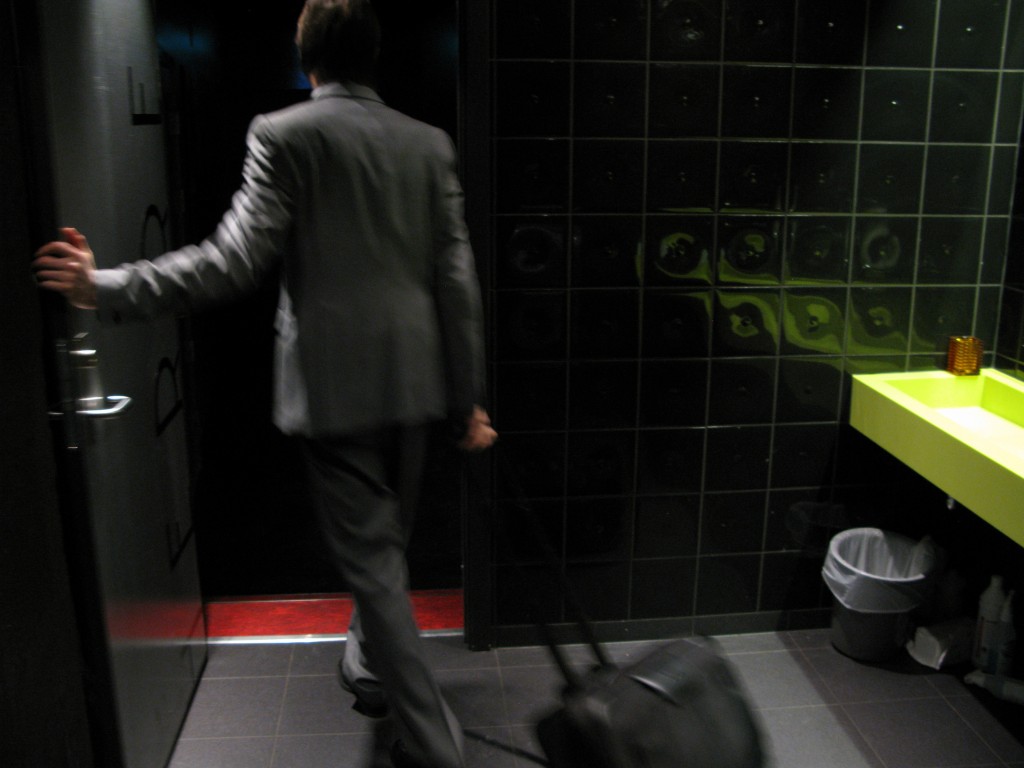 At about the 15th minute, the screen showed me seated in the room and the man interacting with me although I did not intervene since I was not sure about what to do. He pushed the chair on which I was seated, touched, walked around me. Then strange sounds I heard; you know when you watch that movie where a ghost appears and disappears repeatedly? That's what I felt. I was terrified. I almost screamed. I felt tortured in that lonely space. What made the performance magical is that the room in which I was, was exactly as the one in which action was taking place. For example, when he sat in the chair I felt that he was going to sit on me. Moreover, the pictures were mostly faint that one would think he was a ghost.
At the end of the 25 minutes, a statement on the screen thanked me for coming and bade me goodbye. When I opened the door, I saw the guy walk ahead of me in a slow motion. He was the guy that had been acting, the very one that I had been watching! I was curious and excited so I run after him so that I could get closer to him. He run faster to another floor. I followed him, and then he walked back passed me, with a fixed gaze on me, still in a slow motion. I followed him and saw him enter 315. It was still a mysterious albeit exciting encounter!
Viola Karungi
Writer is a drama graduate. She is currently pursuing a Master's degree in International Performance Research at the University of Helsinki.
***
Heine Avdal & Yukiko Shinozaki: Field Works Hotel
Concept and Direction: Heine Avdal, Yukiko Shinozaki
Performed and Created by: Heine Avdal,  Fabrice Moinet
Sound design and electronics: Fabrice Moinet
Read also Sarah Ibrahim's experience of Field Works – Hotel -performance.