I enter a hall with black curtains instead of walls, black chairs and white square on the floor which is obviously supposed to mark the stage space. Chairs are situated along each of the four sides of the square. Associations emerge immediately: this is the boxers ring. Or the mat for gymnastics. Three performers in modest classic clothes standing in three corners for the square refute these associations. I'm curious. Light goes down. Performers make rhythm by sticks in their hands, then enter a white square and make ceremonial walk with ribbons for rhythmic gymnastics. I'm plunging into performance.
"Dancing the war away", announces the dancer. However, she is not sure, what will she dance away. She tries other words: history, troubles, guilt. She turns to different sides of the audience, trying to choose a right direction. The organisation of space works as anti-hierarchical at this moment: there is no right word to call dance, all the words/sides of the hall are equal. Finally the performer dances the war away through noisy dance with a lot of jumps, that looks pretty much like war dance in a lot of traditional cultures.
An symbolic act. Dancers put on similar clothes – jeans, red gumshoes and white T-shirts – and say all together one independent word combination after another. Similar outfits, gymnastic lessons in primary school, genitals, family, genetics, shooting, perversion, Marimekko, Hiroshima, Michael Jackson, amount of meat balls per person… A lot of unconnected words are said out loud by people dressed similarly. Possibly this is a mind map of everyday life in Western countries nowadays.
Another act – dancing of these words. Performers announce one after the other, that they will dance Right to care, Comparing ourselves to Swedish people and other valuable word combinations. Audience laughs a lot. The pathos of the dance highlights the pathos of word combinations, sense of which has been lost after thousands of repetitions with serious intonations.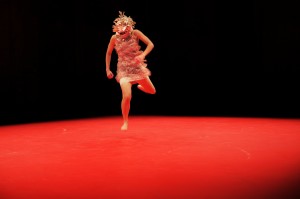 Finally, three dancers announce that they will dance the war away together. And after the act of dancing of words this dance looks pretty ironic. Can we dance the war away? Or should we rather move to discoursive, political, activist dimension to get rid of the war? Probably, magical dance wouldn't help, as it just uses the vagueness of the phrase instead of questioning and redefining it.
The composition of performance is multi-directional as well as it's space. It makes it harder to understand if we define understanding as grasping reality into narration that unfolds according to some direction. However, this composition can also be seen as mind map of different possible senses linked to Social Democratic Body – and if mind map is understandable, then this kaleidoscopic performance is understandable too.
If to remember that the performance was created before parliament elections in Finland, this calling of dances by words gains connotations of performance of language in political speech. Candidates express their political programs and their achievements in words, but there is always a gap between reality and language, as well as between dance and language. We laugh on dancing of right to care partially because right to care is more of an action than a dance, and not only literally (the dance of dancer in Hirvanen's work), but also metaphorically: all the dance of words, that one can create around such a hardly definable phrase as this one, using vagueness of it.
"Our Social Democratic Bodies" is the first performance from Maija Hirvanen's trilogy "Operation We". However, for me this trilogy started with "For those who have time", that is supposed to be the second part. That second part deals with more narrow topics inside of the broad theme of social democratic body. It is more focused, and that is where it's power is. Nevertheless, both parts share strong feature of ironic questioning of words and topics that are often touched as unquestionably serious.
Nina Khodorivska
Culinary journalist, mime and dance artist and teacher from Ukraine, pretending to be clever intellectual, on the way from cynical jester to warm-hearted activist. Currently the student of the MA program in International Performance Research.
¤¤¤¤
Maija Hirvanen: Our Social Democratic Bodies
Koreografia ja ohjaus: Maija Hirvanen
Tanssijat: Maria Saivosalmi, Eeva Muilu & Miikka Tuominen
Valosuunnittelu: Heikki Paasonen
Pukusuunnittelu: Jouko Korkeasaari & Ville Häkkinen
Tuotanto: Zodiak – Uuden tanssin keskus & Maija Hirvanen
Tukijat: Valtion Tanssitaidetoimikunta & Taiteen keskustoimikunta
Lue myös mitä Armanc Yildiz tai Maija Halinen ja Maria Prokhorova kirjoittavat Our Social Democratic Bodies –esityksestä./ Read also what Armanc Yildiz or Maija Halinen and Maria Prokhorova write about Our Social Democratic Bodies performance.