She appears on the stage in the dim light rectangle. She makes a step and moves her arm. Calm and soft. She moves her arm again. She takes her hand aside from the torso palm down as if she passes it over a mirror-like surface. Smooth and slow.
She wears a white shirt with long sleeves and black patent-leather shoes. They gleam in this light rectangle. She makes the same arm movement. And a few times more. Her arms are airy and graceful. She has strict dark grey pans. Her hair set neatly. She herself looks very neat. She makes another arm movement. As minimal. As smooth. As graceful. And meaningful. It develops slowly and acquires another movement pattern.
There are two arms moving at the same time. Her arms are long and beautiful. Fingers put together. This is the arms-dance. She takes the small steps within the light rectangle. Her shoes gleam in it. Small shifting from one foot to another. There is abrupt male speaking heard. None of the sounds are long enough to make clear words. Music along with speaking heard. There is some anxiety felt over it. She continues her arms-dance. It becomes more dynamic. Her arms make circles, cross over, slide on her body. In the whole movement flow there sometimes come a few familiar gestures. The flow is continuous and charming.
Lisbeth Gruwez's performance It's going to get worse and worse and worse, my friend doesn't promise any charming arms-dance. It is about the power of words. It is about the trance of the speaker as a precondition of his powerful speech. In her performance Gruwez uses the fragments from a speech by the American tele-evangelist Jimmy Swaggart.
We…must…an…answer…we…may…help…Swaggart's voice pronounces recognizable words…We…may…we…help…an answer… Certain word corresponds to certain body positions. With small twist in a body she stretches her arm up diagonally and puts same-side leg aside. Rapid change of the body positions replaces the continuous movement flow. It's not pure arms-dance anymore. Words form sentences. The artificial sentences have mismatch in Swaggart's intonation. They become longer… It's going to get worse and worse and worse, my friend…She rolls up the trousers to the knees. She pulls underwear pants out of the trousers up to the waist. Her shoes gleam in the light rectangle. The artificial sentences become a real speech. Nervous, pushing, breathless.
Lisbeth Gruwez  creates a journey through different states of mind of a persuasive speaker.
It's not arms-dance anymore. The voice calmed down. She gradually lies down on the floor. She stays moveless. Her head laid on the right ear as if she is listening something. There is only something going on inside of her. She rises up. She is in the middle. Her hands rub the front of her thighs. Faster and faster. Rubbing gets to shaking in the whole body. From the down up.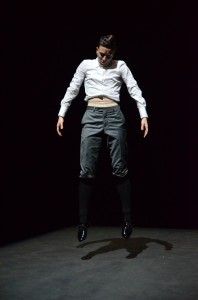 The muffled up speech becomes a background. She makes hard steps forward while shaking with arms bent in the front as if they help her balancing. They are not long and beautiful anymore. She doesn't look neat at all. She reaches with difficulty the center of the dim light rectangle. It gets much lighter. She jumps. Major music plays. She jumps higher and higher as on the trampoline suspending in the air. She smiles sometimes. Her hands are long and beautiful. Her shoes gleam in the light rectangle. She has arrived.
Maria Prokhorova
Dancer, who tries out different ways of viewing and reviewing dance
***
Lisbeth Gruwez / Voetvolk: It's going to get worse and worse and worse, my friend
Choreography and performance: Lisbeth Gruwez
Sound design and assitant: Maarten Van Cauwenberghe
Costume design: Veronique Branquinho
Artistic Advisor: Bart Meuleman
Lighting design: Harry Cole
Production: Voetvolk vzw
Co-production: Grand Theatre Groningen, Troubleyn / Jan Fabre, Theater Im Pumpenhaus
Supported by: Provincie West-Vlaanderen & Vlaamse Gemeenschap
Premiere: 27.9.2011 Contemporanea Festival, Prato (IT)
Read also Olivia Furber's review of the same performance