The students of International Performance Research (MA) write about their experiences during Moving in November festival for Liikekieli.com. First one by Armanc Yildiz and the premiere of Maija Hirvanen's choreography For those who have time.
A Eulogy to Expiration Dates
A woman in a black dress. Dancing. Very minimally. Makes you hear the ticking time. This is a show "for those who have time" after all. Time is ticking all around. It is bigger than us. Surrounds and swallows us. Minimal movements starts to grow. So does the anxieties and the hysteria. She is talking about problems, huge problems: problems of the modern homo sapiens. She speaks clearly, mentions simple things, keywords of the contemporary chaos. We, as the audience, we know very well what those things are. She is not telling us what we are going through. Yet she embodies all of us in her body. Embodies the human psyche. The war between life and death drive. She pukes it all out. She mourns living. "The fear of death and other things."
A man in a shirt and trousers. Quite formal. He sure wants to dance but he does not have time. He does not have time for lots of things. Dancing. Very minimally. He is a multitasking monster. Does not have time for thinking. "He does not think, just does it. Thinking is useless." Slaps us with the utilitarian world. With the very disenchantment of it. Movements growing out. He does not like to be out of the spot light. Stops dancing when he is out of it. Because it is useless then. And he does not have time. Has to maximize the efficiency. He multitasks. He doesn't have time for sex, for love, for reading. Just that animal called homo economicus. He keeps moving. I start moving with him. He makes me alert, uneasy in my comfortable chair. Fills in the ground he shakes with words. With how we do not have time.
What am I doing here? "I do not have time for this."
There comes a rock star with a guitar. As if we were all expecting this. The woman locates our desire on his abs. Now we are done with him. Was he just a break from worrying about serious stuff, like advertisements? He goes. He is sad. We are sad. Yet our sorrow is so shallow. We know deep down, there will be others who try for the fifteen minutes under the spotlight. Others to come. Others to look at. Others to eat and flush down the toilet.
There comes the crescendo. Dance of time and death. A eulogy to expiration dates. Playing with our expectation to see "dance proper." With their anxiety and hysteria continuing. We hear a piano. Dissonant as their bodies. The struggle goes on for some time. Who is going to be the winner? They are both winning. We are losing. Time. As they reach their peak, they leave.
The fallen angel, rock star, comes back in. Trying to rise again. No hope for him.
The curtain opens. We see black balloons all around. They all start to play with them. We watch them play. They come closer and closer. They try to play with us. In spite of us. We join in. It turns out to be playful. Did we have time to play?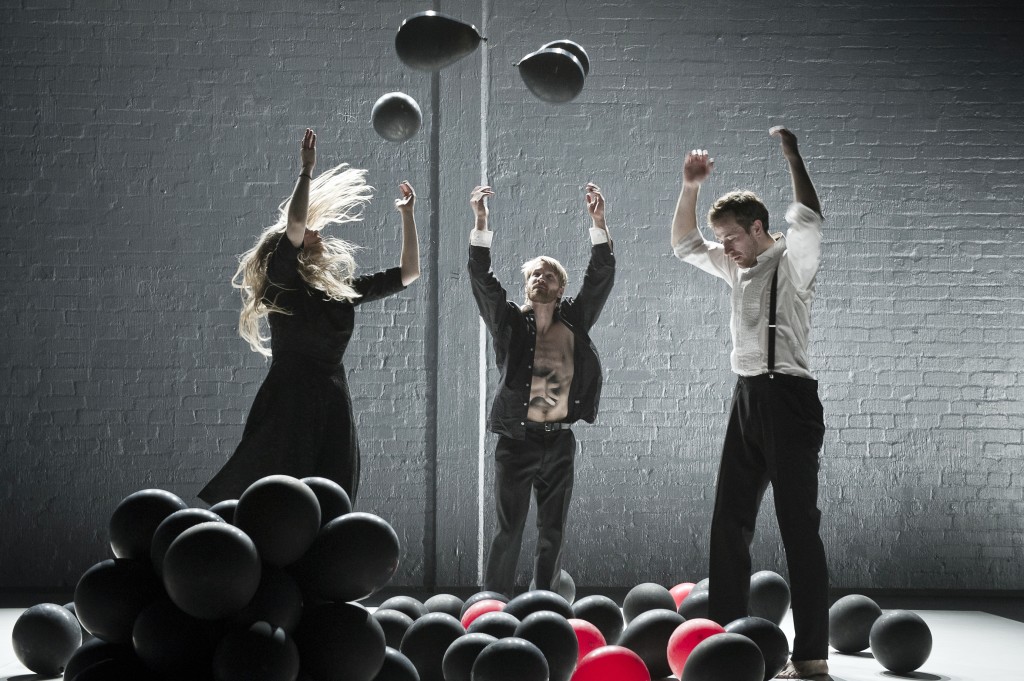 It started out so minimal, so conceptual. Now it turns into a spectacle. The rock star plays his guitar. Relieved of this suspense, we start to be entertained. They sing the whole performance in words. We are even more relieved that we understood it correctly. We are so smart. We are so intellectual. If only we had more time.
"We think we are in control, but we are not."
Armanc Yildiz
Studied Cultural Studies in Istanbul and currently studying International Performance Research (MA) in Helsinki University.
***
Maija Hirvanen: For those who have time
Choreography and direction: Maija Hirvanen
Created with and performed by: Hanna Ahti, Andrius Katinas, Jukka Tarvainen
Lighting design: Heikki Paasonen
Set and spatial design: Maija Hirvanen, Heikki Paasonen
Costume design: Jouko Korkeasaari, Ville Häkkinen
Sound design: Lauri Wuolio
Song: Lets Dance composition by J. Tarvainen, Lyrics and adaptation for the performance by H. Ahti, M. Hirvanen, A. Katinas & J. Tarvainen
Lighting and sound technician: Anna Pöllänen
Photos: Aki-Pekka Sinikoski, Uupi Tirronen
Production: Zodiak – Uuden tanssin keskus, Liikkeellä marraskuussa -festivaali, Maija Hirvanen
Premiere: 27.10.2012
Read also Maria Prokhorova's review of the same performance / Lue myös Maria Prokhorovan arvio samasta teoksesta